In an effort to help students focus by not sending too many emails we've stored up all the great opportunities into one short digest.
Don't worry if you want to get more opportunties throughout the week you can follow us on Twitter, Facebook and Instagram using the buttons below…
Please let us know if you have any suggestions for next week via sed-web@qmul.ac.uk
From QMUL
SED Careers Events There's some unmissable events coming up for you to get valuable insight and develop your confidence in these uncertain times including:
Employable Me: Your degree doesn't have to define your career in the workplace. Free workshop from QMSU on Thu 28 January 2021, 5:15pm – 6:30pm. This event will be focusing on how your degree doesn't have to dictate your future career, that regardless of what you have studied at university, you can venture into different fields and industries. We will be exploring in detail how it is your interests that guide you towards what you want to do next, and that your degree is just one step out of many you will take in your life.
Outside QMUL
Artist Support Programme A GLIMMER from Drunken Chorus – Deadline 15 Feb: 'A GLIMMER' is the pilot of a new artist development programme that will support artists to look to the future by addressing the barriers faced during COVID-19. The programme is linked to an annual performance festival – A Bit Of A Do.
Creative Skills Workshops from Roundhouse (online) Free professional level classes in essential creative skills online coming up include:
Famous Muslim Writers of the Past (free online event) on 31 Jan. "Let us take you on a literary journey around the world through the centuries…Celebrating the works of famous Muslim poets and writers including; Averroes, Faiz Ahmad Faiz, Gai Eaton"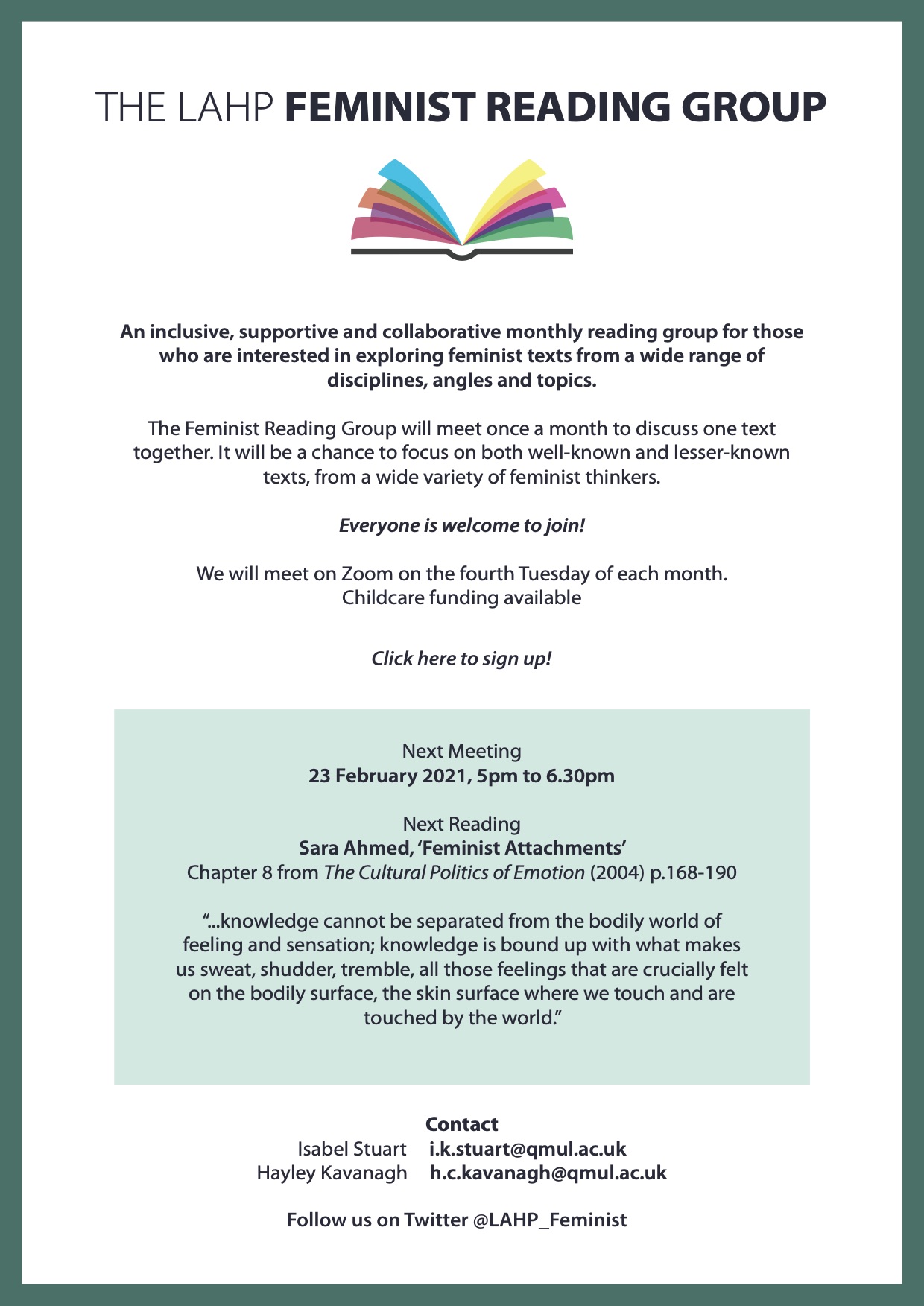 LAHP Feminist Reading Group Want to discuss well-known and lesser-known feminist texts in a supportive group? A chance to unpack feminist theories together? The LAHP Feminist Reading Group is delighted to announce our first session! You can sign up here and everyone is welcome.
Polish Poetry Night Bohdan Piasecki and special guests at Manchester Poetry Library (online) on 27 Feb. Student Hannah Fox recommends this saying 'It's a Polish poetry night at Manchester Poetry Library (online). I attended a Polish poetry festival there previously and it was really good fun! (the poems will be translated to English).'
Recruitment now open for cultural production curriculum The Pattern by Foundation for Future London. Created by Nate Agbetu and Ayo Fagbemi of award-winning London based initiative Play Nice, The Pattern is an incubator scheme and curriculum designed to give future community leaders, cultural producers and aspiring creatives from underrepresented groups the tools and infrastructure they need to develop community projects.
Punchdrunk Workshops Immersive theatre maestros Punchdrunk are offering new online masterclasses in online performance and design, giving you the chance to delve deeper into their practice, from the comfort of your own home. These give the chance to discover more about our creative process, learn techniques for developing new ideas, and how to explore your creative potential.
Further sources of interesting events, opportunities and jobs are…
Apples & Snakes Artists Newsletter | Arts Admin E-Digest | ArtsJobs | Creative Access (Jobs) | JournoResources | MediaBeans (media jobs) | Tower Hamlets Arts | Write at Home (freelance writing opps)