Welcome to our latest round up of events, opportunities and schemes that may help you meet collaborators, improve your career prospects or simply broaden your horizons.
Two updates this week eh! We're just catching up with our inbox but always love hearing from you.
Please let us know if you have any suggestions for the next edition via sed-web@qmul.ac.uk
From QMUL, Partners & Friends
QMUL's platform for people of colour, Diaspora Speaks is hosting a fashion show and an event on Disability Stereotypes
DIASPORA SPEAKS is hosting a Fashion Show
WE NEED VOLUNTARY:
Makeup artists
Hairstylists
Models
Backstage aids
< Writing is in a dark brown square. Picture of the backs of women in similar grey attire >
Disability Stereotypes – An in-person Diaspora Speaks event
Friday 25th February 5-8 pm (BST).
Disability stereotypes.
Quiz, discussion, fun.
Location Bancoft 3.27
Members free
Non members TBC
Follow Diaspora Speaks for the latest on this event
< All in a red box. There is an image of people on crutches across an astrofield wearing clothes meant for general sports. >
Call out for March awareness days
We want to spread the word about:
World Book Day: 3 March
World Poetry Day – 21 March
World Theatre Day – 27 March
If you have any ideas or content we could share around these please email: sed-web@qmul.ac.uk
Reminder: Paid Spoken Word Opportunity – #HumanityMatters – Spoken Word Artist Wanted
We're looking for a spoken word artist student at QMUL who could front our campaign around why humanities matter to the world.
The role would involve:
Writing a poem/spoken word piece around this topic covering various subject areas.
Performing this poem to camera.
The role would be paid – amount TBC. Please let me know if you'd like to be sent the brief: r.dannreuther@qmul.ac.uk
We are thrilled to announce we'll be having our 10th telephone fundraising campaign this March.
We are looking for 20 students to join us as callers. We're offering flexible hours, great pay and the chance to talk to alumni (former students)!
Visit our website for more information or to apply – we're looking forward to hearing from you!
We are now accepting applications. Deadline to apply is midnight on Wednesday 2nd March.
For more information, contact the Regular Giving team at annualfund@qmul.ac.uk
Poplar's 'Female Husband': Queer history at the Tower Hamlets Archives
Wednesday 23rd February 2022 – 5.30pm – 7pm = FREE
Online via zoom
Register online here: https://www.eventbrite.co.uk/e/259382599337
Friday, 25th February 2022, 19:30-21:30 (doors 18:45)BT
Come and celebrate LGBT History Month with a showcase of some of the UK's finest queer comedians. Hosted by Mark Bittlestone (@poofsrus) the line up includes Andrea Hubert, Victoria Olsina and Fatiha El-Ghorri. We hope this will be the first of a regular comedy night for Queen Mary students and staff.
Location: People's Palace.
AHRC Boucicault 2020: Circuits of Skill Research Network
– led by Aoife Monks and Nicholas Daly invites you to a series of online workshops and events to commemorate the 200th anniversary of Boucicault's birth (delayed by Covid 19). These events will investigate the relationship between entrepreneurial values and performance skill, asking how one relates to the other in the theatre by considering the legacies of Boucicault's theatre practice now.
FRIDAY 25TH FEBRUARY 2020
10am-12.30pm (GMT) Online
Stage-Irishness: A Public Inquiry
This inquiry investigates the legacies of Stage Irishness, and whether it should finally be banished from the Irish stage once and for all. Taking evidence from 'witnesses' such as historians, critics and performers, this inquiry's appointed jury will try to come to some conclusions, making recommendations for the casting and performing – or not – of Stage-Irish roles in the future. Jury and Witnesses include: Nicholas Daly, Tanya Dean, Rosaleen McDonagh, Brian Singleton, Kirsten Smith. Click here, to book your place and for further information. https://www.eventbrite.co.uk/e/stage-irishness-a-public-inquiry-tickets- 260192551927
2.30-4pm (GMT) Online
Museum of Celebrity and Virtuosity Workshop
Join Aoife Monks, Nicholas Daly, Tracy Davis, Matthew Knight, Simon O'Connor, Marlis Schweitzer, Paul Rae, Mary Ann Bolger, and Sarah Meer among others, to explore the relationship between celebrity and virtuosic performance onstage, and the material cultures that emerge from it.
Click here, to book your place and for further information. https://www.eventbrite.co.uk/e/museum-of-celebrity-and-virtuosity-workshop- tickets-262276795957
5-6.30pm (GMT) Online
Dion Boucicault: Legacies of a Theatre Producer
Join Jen Coppinger, Head of Producing at the Abbey Theatre Dublin, Alexandra Araujo Alvarez, Peoples Palace Projects, London and Róise Goan, Artistic Director, Artsadmin, London to explore the residues of Boucicault's approaches to producing, asking 'what would Boucicault do?' in the face of the challenges facing theatre producers across the world today.
Click here, to book your place and for further information. https://www.eventbrite.co.uk/e/dion-boucicault-legacies-of-a-theatre-producer- tickets-262278280397
Boucicault 2020: Circuits of Skill Research Network is a research project exploring what the nineteenth-century stage has to teach us about the sort of art we get when the entrepreneurialism of artists is emphasised, as it is today.
This project is supported by:
Arts & Humanities Research Council, Queen Mary University of London, University College Dublin,
Rutgers University, New Jersey, Museum of Literature Ireland.
Jobs for graduates and students at QMUL
Careers and Enterprise Centre, Student Services Directorate – Closes 20 Feb
School of Geography – Closes 20 Feb
Students' Union – Closes 20 Feb
Student & Academic Services – Library Services – Closes 27 Feb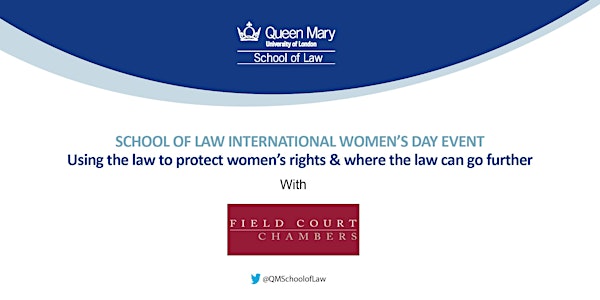 Tuesday, 8 March at 5.30PM (GMT) – Face to Face and Online
To celebrate International Women's Day 2022, barristers from Field Court Chambers including Rupert's sister Anna Dannreuther, will consider a hybrid case study with the audience. The aim is to highlight how the law deals with gendered issues and, crucially, where it can go further.
Producers of the Future: From Keighley to Karachi is a ground-breaking international collaboration between Bradford Literature Festival, UK, and Adab Festival in Pakistan, with the aim of developing female talent and leadership in the arts and culture sector. The development programme featured 10 women selected from Pakistan and Bradford who collaborated digitally to produce a series of online events.
You can watch these films on our YouTube channel by clicking the titles below. Don't forget to like the videos and subscribe to our channel for more BLF content.
To find out more about our collaboration with Adab Festival, which was part of our 2021 festival programme, visit the Producers of the Future event page. Keep your eyes peeled for our 2022 programme, which we'll be releasing in the coming months.
Phakama 25 Years
2022 kickstarted with our wonderful Environment Day in Brighton, led with students at the Institute of Contemporary Theatre. We engaged artists Mary Chater (Shakespeare in Italy), Rez Kabir (Mukul and the Ghetto Tigers), and Young Creatives Bhavini Sheth and Caterina Tucker. Rez also led on our Café Conversation at Curzon Aldgate where we again explored our place in the world and in the context of climate and environment. Check out this lovely little film to get a sense of what the day entailed!
We also have a small Phakama 25 Years and Beyond Party on February 24th in East London to mark the end of the celebrations and to strengthen our connections with each other through a small evening event. If you are interested in attending this event, please contact Anna, annag@projectphakama.org, stating whether you are an artist or organisation. This event has limited capacity so we will let you know if a space is available.
Constellations – A Creative Get Together

Following Associate Artists Melanie Hering and Ella Fleetwood's successful project Constellations as part of our Creative Get Together, we are offering the online workshop again and this time in partnership with Sheba Arts. This art and dance/movement-based workshop is aimed at women. To take part, please register on Eventbrite.


FRIDAY 11 – SUNDAY 13 MARCH
The line-up also includes:
WOW London's artist-in-residence Miss Baby Sol and international artist-in-residence Indonesian rock band Voice of Vaceprot
Multi award nominated Laura Mvula and Mercury Award nominated jazz composer and saxophonist Cassie Kinoshi will perform as part of Angela Davis autobiography launch
Palestinian singer-songwriter and instrumentalist Rasha Nahas
Spoken word artist Rakaya Fetuga performing with Maslaha Muslim girl fencers
Pop punk performances from The Tuts frontwoman Nadia Javid and diy band Breakup Haircut
The festival will also host two DJ nights featuring female talent in the booth, in collaboration with Spiritland
'I will be reading from a new novel that gives a twentieth-century queer spin to Great Expectations, after which Dr. Mullan will be engage in discussion of the novel and its Dickensian roots. The event will be of especial interest to students interested in issues of race and sexuality in literature.'
Why does Charles Dickens' novel Great Expectations continue to inspire readers and authors today? In this event, John Mullan, Professor of English at UCL, is in conversation with Joseph Boone, the author of a new novel, Furnace Creek, which is inspired by Dicken's masterpiece. Furnace Creek teases us with the question of what Pip might have been like had he grown up in the American South of the 1960s and 1970s and faced the explosive social issues—racial injustice, a war abroad, women's and gay rights, class struggle—that galvanized the world in those decades. Advance copies of the novel have garnered high praise from readers. This promises to be a riveting discussion between the novelist and one of our most distinguished literary critics.
Build your speaking confidence with mentors from top companies like Just Eat, Investec or Google

Apply now for the We Speak Employment programme and improve your speaking confidence and employment opportunities with Mentors from companies like Just Eat, Investec or Google.

During live weekly online sessions, you'll build your confidence around how to contribute to discussions, speak comfortably at job interviews, and speak in front of groups. Participants who complete the 4-week programme will receive a Certificate of Achievement.

We encourage applications from anyone who feels less confident about speaking, and we create a relaxed and friendly environment for participants. You can apply to join one of our 4-week programmes with online sessions taking place once a week, starting from w/c 7 March.

Submit your details via a short application form: www.wespeak.co/apply

Fill in the 3 minute form as soon as possible! Applications shut on Monday 28 February but we are awarding places as applications come in.
Tower Hamlets based artists and arts organisations are invited to our annual sharing event. This year this free event will be held online on Thursday 3 March.
Speakers include East Bank, Half Moon Young People's Theatre, Bow Arts Trust, Queen Mary University of London, artists Rahemur Rahman and officers from Tower Hamlets Council's Arts & Events Team. There will also be time for Q & A.
Outside QMUL
OPEN CALL OPPORTUNITY FOR UKRAINE BASED ARTISTS*
More in Instagram post below…
After trialling our internship scheme last year, we are back with THREE new paid positions across 2022.
Remote, UK-based, flexible hours.
Fee: £500.
Deadline: 6 March.
Full info: http://404ink.com/jobs
Interested in artist development? @RTYDS in #Manchester nurture early-career theatre makers. They're seeking a trainee programme producer to gain skills in marketing, social media & project management. Apply by 27/02 via @_CreativeAcccess
Details: http://ow.ly/Tpaa50HKCUO
Monday 28 February 2022, 15:00—17:00
Learn how you can use our library to access Wellcome Collection materials in the open stacks and Rare Materials Room. Four researchers will tell you about how they work with items from the collections to produce artwork, podcasts and academic research papers.
Further sources of interesting events, opportunities and jobs are…
Apples & Snakes Artists Newsletter | Arts Admin E-Digest | ArtsJobs | BBC Academy | Creative Access (Jobs) | ERIC – Career + Opportunities App | JournoResources | Lectures.London | MediaBeans (media jobs) | QMUL Careers | Presspad | Tower Hamlets Arts | Write at Home (freelance writing opps)