Welcome to our latest round up of events, opportunities and schemes that may help you meet collaborators, improve your career prospects or simply broaden your horizons.
Please let us know if you have any suggestions for the next edition via sed-web@qmul.ac.uk
Don't forget to register with Creative Access for amazing job opportunities, internships and training
From QMUL, Partners & Friends
Humanities Ball in the Octagon on 27 May
We are so excited to announce the collaboration between History Soc, Geography Soc, Peach Magazine, The Print, CUB Magazine, QMTC and English Society to bring you a Humanities Ball on the 27 May!
It will be taking place from 7-11pm in the Octagon, Mile End Campus.
Dress Code: Formal/Black tie. Cultural clothing is also welcome.
Ticket Prices: £23 for members of all participating societies and £26 for non-members (this includes non-qmul students). 
Included in the ticket price is a finger buffet, a glass of Prosecco on entry and half a bottle of wine per person (non-alcoholic alternatives will be provided). There will also be a bar to buy additional drinks from.
The buffet will be Halal and will have Vegetarian and Vegan options. There will also be allergen cards. 
There will be a DJ, a dance floor and a photobooth to capture memories from the evening.
For more information please head to Humanities End of Year Ball (qmsu.org)
Be a part of the Festival of Communities – Festival Crew paid opportunities.
@EngageQM are recruiting a team of Queen Mary PGR students to support the 2022 Festival of Communities on 11-12 June. 
Events Roundup
The Trembling Hand — Reflections of a Black Woman in the Romantic Archive
When: 18 May 2022, 19:40 — 21:00
Venue: Birkbeck 43 Gordon Square
It's a talk by Mathelinda Nabugodi, a former phd student of Paul Hamilton's, and I'm sure it will be of much interest.
Decadence, Paganism, and the Environment – In-Person & Online
QMUL is pleased to host a conversation with Dennis Denisoff (Tulsa), Stefano Evangelista (Oxford) and Alex Murray (Queen's, Belfast).
Outside QMUL
Would you like to be part of our Queer Makers Market?! Do you make sexy queer zines?
Design weird & wonderful clothes?
Maybe you're part of a queer charity or small collective?
If you would like a stall at our Queer Summer Fayre, happening at Hackney Bridge on Saturday 18th June get in touch with us!!!
FILL OUT THIS SHORT FORM TO EXPRESS AN INTEREST 
Join us at the London Train to Teach event on Saturday 11 June 2022, from 10am until 2:30pm for support on your journey to the classroom.
Want to know what it feels like to stand in front of a class? Interested in what qualifications you need?
Discover the answers to all your questions and receive tailored information to give you all the confidence you need to decide to become a great teacher.
Sign up to the London event today
Tower Hamlets Business Support
Access to start-up training Want to be your own boss? Access a free e-learning hub to get the resources you need to begin your entrepreneurial journey. Created in partnership with Launch It, the Next Generation programme is part of the UK's Community Renewal Fund. It aims to give thousands of young people in London, aged 18-24 the support to start a business. Sign up to Next Generation by Enterprise Nation and Launch It to access free training, events, content access to advisers, peer groups, funding and more. Sign up and be in with the chance of winning £2,000 for your start-up Apply now >
DIF – Allia Accelerator Challenge Allia is partnering with DIF Capital Partners to support social enterprise and purpose led businesses by providing 6-months of mentoring support from the DIF team and a grant cash prize pool of £30k to be shared with three finalists. All social enterprises, charities, tech for good ventures, and impact businesses are eligible to apply to be part of this unique opportunity. Closing date: 9th May 2022Find out more >
Free webinar – Harness the Power of Social Media With many small businesses having to rethink their marketing strategy to align with the changing landscape, social media has become more crucial than ever before. This comprehensive London Business Hub virtual workshop is designed to transform your strategy with changing consumer habits and walk you through everything you need to know; from starting a social media campaign, creating online content, engaging with your target audience and evaluating your campaign effectiveness. Packed with tips and insights from our social media expert, you will leave with the knowledge to effectively leverage your social media channels to stay visible, connect with new and existing customers and generate future business opportunities. Thursday 26th May, 10am – 4.30pmRegister now >
C
ommunity Business Crowd Match Programme Community Businesses in England that are crowdfunding new initiatives and projects can receive match funding from Power to Change up to a maximum of £10,000. The funding can be used to help launch new ideas to help local neighbourhoods, help meet increased demand, save community spaces or help bridge a funding gap. The match funding will be on a £ for £ basis. Power to Change are particularly keen to support new and existing projects in more deprived areas of the country, and to work with communities experiencing racial inequity across England. Applications to the Community Business Crowd Match Programme can be made at any time. Find out more >
Join us at the Creative & Cultural Futures showcase to celebrate the creative minds from The London Borough of Tower Hamlets through an evening of artistic and interactive exhibitions. The London Borough of Tower Hamlets has been working with Allia Impact to provide grant funding to creative freelancers from the borough. The Creative and Cultural Futures project has provided direct support to creative and cultural industry freelancers. Grant funding has been given to freelancers to help them adapt and develop their businesses with additional workshops and 1-to-1 professional support provided by Allia Impact. Participants who came on the programme are from a wide range of creative industries such as artists, musicians, filmmakers, photographers, dancers, and sculptors. Allia Impact in partnership with The London Borough of Tower Hamlets would like to invite fellow creatives and cultural organisations to this showcase to celebrate the end of this 5-month project by giving our participants the opportunity to exhibit their creative projects. Date: Saturday 28th May 2022, 6pm – 9pmLocation: WappArt, Gauging Square, 150 Vaughan Way, London, E1W 2AHBook your place >
Market engagement sessions for café operators Do you run a food business in Tower Hamlets and are you looking for a new opportunity? The Council is holding market engagement sessions to get feedback from food businesses on the commercial catering offer for the New Town Hall in Whitechapel, and St Georges Town Hall in Shadwell. This is not a tender or a competition, but an exercise to allow the Council to get feedback from the market; to raise awareness and inform upcoming opportunities. Three hour-long sessions are taking place on Thursday 19 May (10-11am, 11am-12pm, 12pm-1pm) at the Town Hall, Mulberry Place, Clove Crescent. Please register your place before Monday 16 May. Book your place >
Safety App Safe Up is a women's safety initiative that supports women to get home safe, there are two key aspects of their offer: Members (women) sign up to the app and can find locations (safe spots) when they feel at unease. Businesses can sign up to provide safe spaces for members. Find out more > Useful email contacts: Business SupportHigh Streets and Town CentresHealth and SafetyBusiness RatesLicensingMarkets Register for Enterprise Business Support The council's Enterprise Team provides a number of projects to support new and established businesses. Register for support. size=2 width="100%" align=center> Did you know that Tower Hamlets offers other email newsletters to keep you up to date on a variety of topics? See the list and sign up!
Calling all local creatives! Women of the Wick is thrilled to launch a new Storytelling Programme for creative freelancers & entrepreneurs followed by a printed zine supported by @foundationforfuturelondon.
1-Minute Archive Film Competition
Want to see your short film on the big screen at Sheffield DocFest 2022? We've teamed up with The Associated Press to present the 1-Minute Archive Film Competition, and challenge you to make a minute-long film using footage from the AP archive. £1000 cash prize for the winning film; Winning film selected by our 2022 Guest Curator, Asif Kapadia; Top 3 films will screen at this year's edition of Sheffield DocFest – taking place 23-28 June 2022. The competition is open to all entrants around the world aged 18 and over. No previous experience is required, so whether you're a seasoned professional or just interested in trying your hand at something new – get involved!
Deadline: Thursday 26 May, 17:00 BST 
Image courtesy of The Associated Press

A free mentorship and outreach programme for underrepresented children's book writers
ArtFund has partnered with Van Gogh House in Brixton, London to bring you five paid opportunities to work with artist Harold Offeh on his upcoming exhibition 'Nineteen to Twenty'. The exhibition will explore themes of migration within young communities in Brixton, using Van Gogh's migration from Holland to London at aged 19 as inspiration. This part-time role will run from September to December and is ideal for those aged 19-24 with personal links to migration, who are keen to connect their experiences to the exhibition while working on a range of responsibilities as Community Engagement Guides.
Help bring an exhibition to life, engage visitors, and share your own experiences of migration as a Community Engagement Guide…
Events at LGBTQ+ Community Centre
Friday 6 May
11-12 Yoga
12-8 Cafe open for walk-ins
1-4 LGBTQ+ Bridge Group
4-8 Queer photography workshop with Felix Pilgrim
6-8 Meet the community: Wandsworth Carers Centre

Saturday 7 May
11-12 Yoga
12-8 Cafe open for walk-ins
12:30-3 Open Minds Project: tea and samosas
4-6 Performance: 'A word of love to the Queer Community'/'Una Palabra de Amor para la Comunidad Queer'
6-8 Garyrabia film screening and Q&A
Sunday 8 May
11-12 Meditation
12-8 Cafe open for walk-ins 
3-8 LGBTQ+ Board Games Afternoon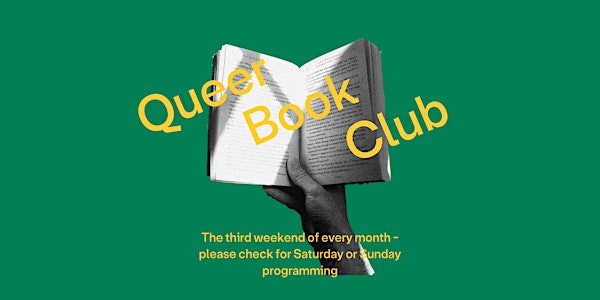 Queer Book Club
Sunday 15 May Fairytales For Lost Children – Diriye Osman
Monthly book club focused on queer authors on a range of topics. Each month we'll discuss a title and offer readers the chance to suggest the next month's read.
There's also the opportunity to have a non-alcoholic drink, make new friends and socialise after the book discussion.
ERIC Careers Workshop Session Recordings
TRAILERFARM A games studio based in Brighton, meet the team and learn about the different jobs in Gaming. They also currently have 3 entry-level opportunities available. Check them out and apply on the ERIC app. Watch the session here.
Financial Times One of the world's leading news organisations, recognised internationally for it's authority, integrity and accuracy. Interested in the journalism & media world, this session is worth watching! Watch the session here.
Renaissance Studios Come meet and get to know this female run production
company based in Brixton. They create everything from TV, Film, Ads AND have recently partnered with Netflix & Channel 4 to help create more inclusive & diverse content. They also have their Creative Clinic coming up, full of workshops and events for young creatives 16th-20th of May. Watch the session here.
BBC Sport Part of BBC, BBC Sport covers everything from football to skateboarding, the Olympics to skiing. In this session you'll meet 4 different people from across the company who share their career journey and how you can get into Media too. Watch the session here.
Framestore Known globally for their visual effects, they have created scenes for some of the biggest productions including Marvel films, Harry Potter, Paddington Bear., the list goes on. In this session you will learn all about the VFX & animation industry and learn how you could work in this growing industry. Watch the session here.

Closing Soon
Hackney Showroom: Marketing Officer (Part-Time) – Closes 23 May
Fierce: Production Coordinator – Closes 23 May
Shubbak: General Manager & Senior Development Manager – Closes 20 May
QMUL: Sustainability Co-ordinator – Closes 22 May
---
Further sources of interesting events, opportunities and jobs are…
Apples & Snakes Artists Newsletter | Arts Admin E-Digest | ArtsJobs | BBC Academy | Creative Access (Jobs) | ERIC – Career + Opportunities App | JournoResources | Lectures.London | MediaBeans (media jobs) | QMUL Careers | Presspad | Tower Hamlets Arts | Write at Home (freelance writing opps)