Welcome to our latest round up of events, opportunities and schemes that may help you meet collaborators, improve your career prospects or simply broaden your horizons.
Please let us know if you have any suggestions for the next edition via sed-web@qmul.ac.uk
From QMUL, Partners & Friends
Professor Thomas W. Laqueur – Pathologies of Solitude Distinguished Visiting Fellow – May 2022 Programme of Events
Professor Thomas Laqueur, based at Berkeley, University of California, is the author of Making Sex: Body and Gender from the Greeks to Freud (1990), Solitary Sex: A Cultural History of Masturbation (2003), and The Work of the Dead: A Cultural History of Mortal Remains (2015), among many others.
This month, Professor Thomas Laqueur is the Distinguished Visiting Fellow with the 'Pathologies of Solitude' project at Queen Mary, University of London. All are welcome to these events, but booking is required. Please register using the links below.
Monday 16th May, 5:30-7pm
Online (Zoom)
George Makari, David Feldman, Akshi Singh and Thomas Laqueur discuss the history of xenophobia from its origins to the present day.
All welcome but registration is required.
Wednesday 18th May, 3-6pm
Student Seminar 1: Sites of Memory
Arts Two, 3.20 (QMUL)
A seminar on the histories of iconoclasm, statues in public places, and the legacies of imperialism.
Open to all HSS students and postdocs. Registration is required.
Monday 23rd May, 5-7pm
The Origins and Uses of Humanitarianism: Interdisciplinary Perspectives
Arts Two, Lecture Theatre (QMUL)
A symposium with Prof Laqueur, Dr Simon Reid-Henry (Geography), Prof Matthew Hilton (History) and Prof Sophie Harman (SPIR).
Open to all HSS faculty, students, and postdocs. Registration required.
This event will be followed by a drinks reception.
Tuesday 24th May, 5-7pm
Revisiting Solitary Sex Seminar
Arts Two, 3.20 (QMUL) / Online
The 2003 publication of Solitary Sex: A Cultural History of Masturbation stimulated academic and popular discussions about masturbation which have increased our understanding of this under-discussed human behaviour. This paper revisits the arguments of the book in the light of these discussions and considers the implications of solitary sex – its practice, its reputation, its friends and enemies – for the history of human solitariness in general.
Co-sponsored by 'Pathologies of Solitude Project', Centre for 18th Century Studies, Sexual Cultures Research Group (SED)
All welcome but registration is required.
Friday 27th May, 3:30-6:30pm
Student Seminar 2: When Species Meet
Arts Two, 2.17 (QMUL)
A seminar on human-animal relations in the age of the Anthropocene.
Open to all HSS students and postdocs. Registration is required.
Monday 30th May, 6-7:30pm
Canines in Solitude: The Gaze of the Dog in Western Art
Online (Zoom)
This lecture argues that the gaze of the dog, grounded in evolution and appropriated by visual artists in the western tradition, offers a way of representing being seen – being regarded as worth regard – as a defence against loneliness both as a species and as social beings.
All welcome but registration is required.
Individual Student Meetings
Professor Laqueur is also available to meet individually with students. Please choose one slot on this Doodle poll:
https://doodle.com/meeting/participate/id/dwpqRKze
Rediscovering Bow Heritage Trail: introduction workshop
Do you have an interesting story about Bow? Maybe from your recent past, or from your family history? Roman Road Trust is rediscovering Bow Heritage Trail – and we want to hear from you!
When?
Friday 20th May, 1-5pm
Thursday 26th May, 1-5pm
Or drop-in when you can!
Where? In-person at Idea Store Bow, E3 5EU
OR
Join online (please email rosie@romanroadtrust.co.uk to register for an online place)
Book you place via Eventbrite: https://tinyurl.com/6nw3u4tj
Have a question? Please email: rosie@romanroadtrust.co.uk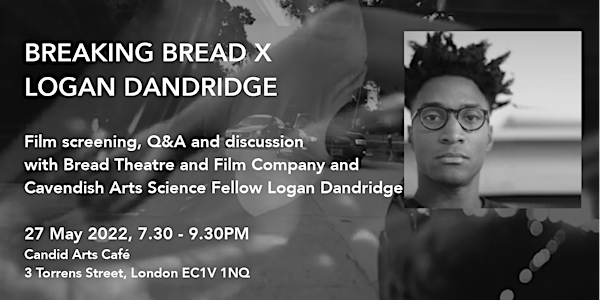 Join Bread Theatre and Film Company for a film screening and discussion with filmmaker Logan Dandridge.
Bread Theatre and Film Company (IG: bread_london) are delighted to host Breaking Bread with Logan Ryland Dandridge, an experimental filmmaker and Assistant Professor of film at Syracuse University College of Visual & Performing Arts.
Logan Dandridge is an artist from Richmond, Virginia, USA. His films interpret the nuances of African American culture through the poetics and aesthetics of experimental cinema. As a filmmaker, cultural referencing, nostalgia, and religion are themes explored in his work. His research interrogates various histories through a combination of assemblage, superimposition, and multi-channel orientation.
Join us on 27th May at Basement Gallery @candidartstrust at 7.30 pm for a gathering that will provide a chance to see and discuss new work-in-progress that Logan has been developing through the course of his Cavendish Arts Science residency at Cambridge.
More information about Logan's work can be found on Cavendish Arts Science's website.
Calling Writers, Performers & Poets! Perform at Scratch, Crackle & POP!
We welcome you back to Scratch, Crackle & POP!, our seasonal scratch night showcasing the work of writers, performers and poets in the early stages of development, giving audiences a taste of upcoming and developing shows.
Want to get involved?
Applications for the June scratch night are now OPEN.
Please send the following information to emma@poplarunion.com by Monday 16 May for the chance to take part:
• The type & length of piece (must last no longer than 15 minutes)
• Max 100 words description of the piece (this doesn't have to be too polished and can be a list of ideas, themes or questions you are exploring)
• Links to previous/current work (eg. YouTube/Vimeo/Tumblr etc) or/and social media links (if applicable)
• Basic tech requirements
All applicants shall receive a response by Friday 20 May. The event will take place on Tuesday 14 June.
Outside QMUL
PR and Communications Assistant at Social Streets C.I.C
Social Streets is looking for a PR & Communications Assistant to work alongside the founder and director of Social Streets C.I.C Tabitha Stapely.
The initial contract is for three months to assist in the promotion of our print publications, our online membership and our work to lobby the government for policy that supports sustainable local journalism. Starting immediately.
---
City of Stories Home celebrates London's libraries as places to make and share stories, and is run as a partnership between London Libraries and Spread the Word.
Throughout June, the City of Stories Home sees 33 free events for writers and readers taking place in every London borough and the City of London to celebrate the launch of the City of Stories Home Anthology. The Anthology features over 70 short stories written by London writers on the theme of home. 63 of the anthology stories features winning and highly commended writers from the City of Stories Home writing competition which was open to London writers who attended a free City of Stories Home workshop in February.
At the events you'll be able to:
Take part in a creative writing taster session;
Hear local authors read their stories;
Pick up a free copy of the Anthology, and
Find out how libraries can support you as a reader and writer.
An evening of conversation with Merve Emre
As part of this event, Merve Emre will be interviewed by Sarah Edwards, a PhD candidate at UCL studying contemporary feminist essays. The interview will focus on Emre's upcoming book titled Post-Discipline: Literature, Professionalism, and the Crisis of the Humanities, and the recent publication of The Annotated Mrs. Dalloway (2021). However, the interview will also touch on Emre's earlier works such as Paraliterary: The Making of Bad Readers in Postwar America (2017) and her work on the contemporary essay.
The event will take place at 5pm on the 1st June in the 'IAS Forum' which is situated within UCL's Institute of Advanced Studies.
The event is free to attend but you must book a place at this event on Eventbrite prior to attending. The Eventbrite link can be found here.
If you have any questions you would like to ask Merve Emre, please feel free to contact sarah.edwards.19@ucl.ac.uk with your question by 5pm on the 25th May and she will try to incorporate them into the interview.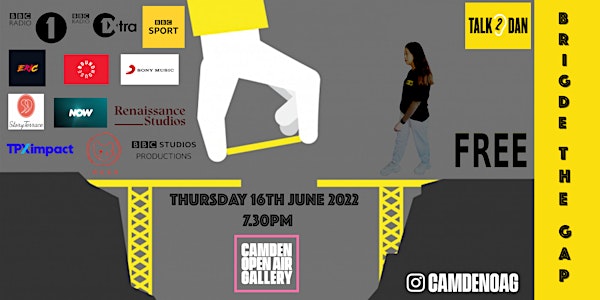 TALK 2 DAN – Bridge the Gap between Employer & Young Creative
Talk 2 Dan in partnership with Camden Open Air Gallery brings you 'Bridge the Gap between Employer & Young Creative.'
Come meet our media partners ranging from BBC Sport, Roundhouse, Sony Music, BBC Radio 1/1Xtra, BBC Studios Productions, the award winning ERIC app & more!
Closing soon
Marketing Assistant to join our Events & Communications team at Dazed Media – Rolling
Content Manager at The Nudge (London city guide) – Rolling
BBC Asian Network Trainee Scheme – 20 May
Box Office Assistant, Punchdrunk London – 25 May 2022
Guardian Media Makers Programme – 30 May
Marketing Assistant at Stanley Arts – 31 May
ARLIS/UK & Ireland – Global Majority Art Librarianship Scholarship 2022 – 5 June
Further sources of interesting events, opportunities and jobs are…
Apples & Snakes Artists Newsletter | Arts Admin E-Digest | ArtsJobs | BBC Academy | Creative Access (Jobs) | ERIC – Career + Opportunities App | JournoResources | Lectures.London | MediaBeans (media jobs) | QMUL Careers | Presspad | Tower Hamlets Arts | Write at Home (freelance writing opps)